‌
Restaurant
In the summer and autumn our restaurant will be open from 7
th
December until 1
st
April 2024. We look forward to welcoming you back again.
We look forward to your visit, whether it's in the morning, at lunch or at night or even just for a snack.
Small and iconic with high-level cuisine. Where would you prefer to dine out?
In the new restaurant with its fantastic view or in the cosy Stübli or on the large sun terrace with its view of the Lenzerhorn, Mitgel, Tinzenhorn and Piz Ela mountains?
We will gladly spoil you at lunch and dinner with our "Tgantieni Classics". Of course, we are also pleased to serve our selected wines.
Here
is where you can find
wine list
&
drinks menu
.
And what is the food like? Our guests describe it as a "real insider's tip".
Do not miss it. An Guata.
Our menus are here
-lunch menu
;
dinner menu
& dessert menu
Our chef Kai Peuthert and the whole of the crew in the kitchen guarantees excellent and nutritious cuisine!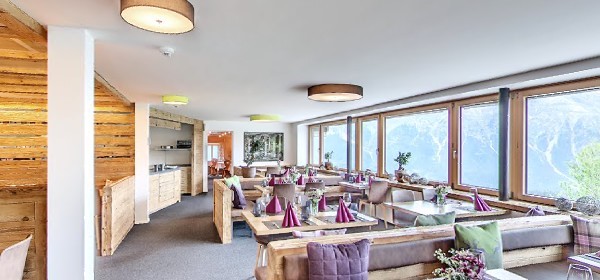 Virtual Tour restaurant Hotel Tgantieni